Men
JIVAGO The Gift for Men EDP 100ml
---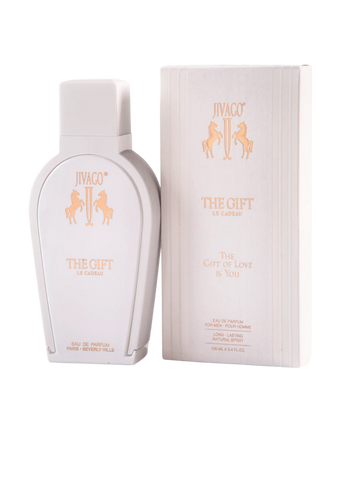 THE GIFT for Men is the new masculine fragrance by Ilana Jivago.
Fresh and bracing as a ray of sunshine, this delightful masculine fragrance is uniquely refreshing. Built around the joyous note of Orange Blossom, this fragrance puts your best foot forward to set you up for success every day. Excellent longevity and an adaptable profile make this the perfect fragrance to start your morning and take you all the way through to the evening in a cloud of happy, summery freshness - ideal as the weather begins to warm.
This fragrance features a harmonious and long-lasting combination of modern musks molecules with a fresh, sparkling top note reminiscent of spring in Italy which 
includes Bergamot and Neroli essential oils as well as Orange Flower Absolute and Lemon.
HEART:
Lavender
Orange blossom 
BASS:
 Musk
Orris
This uplifting fragrance invites you to welcome a new day full of happy possibilities and lifts you to

experience

 c
omplete

 freedom. Imagine yourself dressed in light white linen, on the deck of a boat in your favorite Mediterranean place, feeling the fresh soft 

nurturing

 breeze reminding you
 that life is a gift and the gift of love is you.
THE GIFT for Men and its female counterpart THE GIFT for Women are both inspired by self-love: you can use these fragrances to reconnect to yourself, finding joy love from within that you can then share with the world.
THE GIFT OF LOVE... IS YOU!
Related Products
---